It's not how you start, it's how you finish – and Arsenal have the finishing habit of champions.
Mikel Arteta's team have scored late winners against Manchester United and Aston Villa this season, however Reiss Nelson's 97th-minute strike to beat Bournemouth was something else.
The Arsenal bench cleared as every substitute and member of staff either rushed to the pitch to celebrate with Nelson, or danced down the touchline in jubilation.
The explosion of noise, relief and celebration from the fans at Emirates Stadium was at a volume rarely heard since Arsenal first moved in. In the Match of the Day green room, ex-Gunners striker Ian Wright jumped and screamed in delight.
It feels as if, should Arteta's side win their first Premier League title for 19 years, that this is the game which will be remembered.
"I think we've seen a team worthy of winning the Premier League," BBC Sport pundit Ashley Williams said.
"We keep questioning them because of recent history and they keep answering us. Days like this win you the title. If they win it, they've deserved it."
Arsenal had appeared set to cede not only points to Manchester City, who won the early game against Newcastle 2-0, but momentum too.
https://emp.bbc.com/emp/SMPj/2.47.3/iframe.htmlMatch of the Day: Ian Wright's reaction to Arsenal's late winner
Against a Bournemouth side in the bottom three, Arsenal had fallen behind after just 9.11 seconds – Philip Billing scoring the second quickest goal in Premier League history. When Marco Senesi headed home from a 57th-minute corner, it began to look as if the Gunners would finish the day with a five-point morning lead cut to two.
Step forward Nelson.
After Thomas Partey volleyed Arsenal back to 2-1, the winger – making just his third league appearance of the season – provided the cross for Ben White to level the game, before his stunning winner.
After conceding the second fastest Premier League goal ever, Arsenal won the game with their second latest goal in the top-flight since 2006-07.
Nelson's winner clocked in at 96 minutes and 57 seconds. In 17 seasons, only Alexis Sanchez's penalty against Burnley in January 2017, at 97:14, was scored later.
"It was madness from the first second," Arteta told Match of the Day after the game. "We kept trying and dominating the game. We had a mountain to climb and we took it bit by bit.
"I am going to remember this day for a few things. I loved the initiative, the courage, their personality and the way they made things happen.
"When it is ugly and when it is difficult, that's what big teams do. We have to make it easier for ourselves. But this is the Premier League."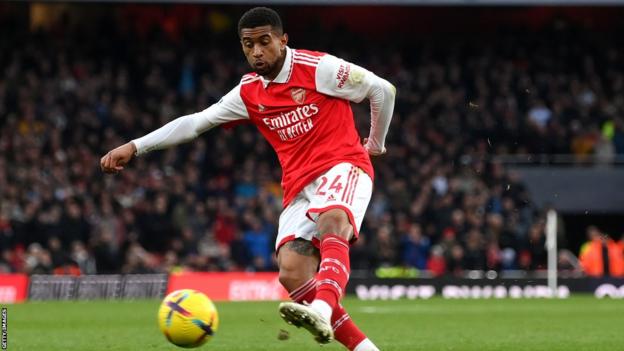 The winger has been struggling for game time this season because of a persistent thigh problem. What little time he has had on the pitch this season, he has made count.
This was quite a turnaround for Nelson.
Across just 85 minutes of Premier League action in 2022-23, he has scored three goals – two against Nottingham Forest last October, and now against Bournemouth – and provided two assists.
"When the ball came out to me I was thinking 'please give me one chance'," he told Match of the Day. "I'm buzzing, really happy. I controlled it with my right foot and it came on to my left.
"We need moments like this if we want to go all the way. We're not looking at any other team at the minute. We are focusing on ourselves. We will keep going day-by-day, game-by-game. As an Arsenal fan, I'm just delighted with the result."
While Bukayo Saka has emerged as a superstar, fellow homegrown winger Nelson has been left behind somewhat, but his pride in wearing the shirt of his boyhood club remains undimmed.
"It's amazing. When the ball came out to me, I eyed it up," he said. "Everyone went crazy when it went in. It's a great moment for me. I have been here all my life and it means a lot to me. I'm just happy. I'm delighted."
'The celebration police will be out' – Wright
Former Arsenal striker Ian Wright said on Match of the Day: "I'm so happy for Reiss after everything that has happened to him at Arsenal.
"They never gave up and that is what Mikel wants. People are saying Arsenal were acting like they won the league, the celebration police will be out. We're talking about a young team who are finding a way to get this done.
"Not many people are at this table – the top end of the league, trying to win it. Enjoy it, Arsenal fans."
Only three teams have taken 60 points or more from their opening 25 Premier League matches and not won the title. Arsenal, in 2007-08, are among the trio.
The class of 2022-23 will have to cut out the mistakes seen against Bournemouth to avoid a similar fate – the glacial start which allowed Billing to score the opener, the non-existent marking that permitted Senesi to make it 2-0, the calamitous performance of Takahiro Tomiyasu that led to him being hooked at half-time.
However, with such a morale-boosting win snatched at the last, all momentum remains with Arsenal.
"I'm incredibly happy. It was just mad," said Arteta. "Those feelings of happiness and joy. It was a really special way and it took until the last second to earn it. I am really proud of them."