Fernando Alonso says qualifying fifth ahead of both Mercedes cars in his first race for Aston Martin felt "too good to be true".
The Spaniard will start the Bahrain Grand Prix behind only the Red Bulls and Ferraris driving for a team that finished seventh in the 2022 standings.
Alonso said: "It was amazing. It was too good to be true every session.
"To be in the top five and fighting with Ferrari and Mercedes seems a little bit unreal."
The 41-year-old was right up at the front from the start of the weekend at Sakhir in his first race for his new team, which has designed what he described as a "completely new car" for 2023.
He qualified 0.628 seconds behind pole-winner Max Verstappen's Red Bull, just 0.336secs adrift of the third-placed Ferrari of Charles Leclerc and pipped Mercedes driver George Russell to fifth by 0.004secs.
Ferrari have been struggling with excessive tyre wear over longer stints and Alonso said that he and Aston Martin felt that fighting for a podium place in the race on Sunday was possible.
"Again, it feels so strange that we start P5 and maybe we are aiming for more," he said.
"We thought to be honest the first three teams were untouchable this year with the advantage they had last year.
"But now we start P5 and we fight with the Ferraris for the podium and this is just incredible. Let's keep on going, keep the feet on the ground, execute the race with no mistakes and see where we are."
Alonso also praised his team-mate Lance Stroll, who qualified eighth despite two broken wrists and a broken toe suffered in a cycling accident two weeks ago that forced him to miss pre-season testing.
"Impressive," Alonso said. "Every lap he does I am congratulating him because it is not easy what he is doing.
"This shows how determined he is to get a good result and good career in F1, his passion for the sport, which sometimes is not really sold like this because Lawrence [Stroll, Lance's father] is the [team] owner, but this weekend he is showing a lot of things to everybody."
Hamilton 'happy' for Alonso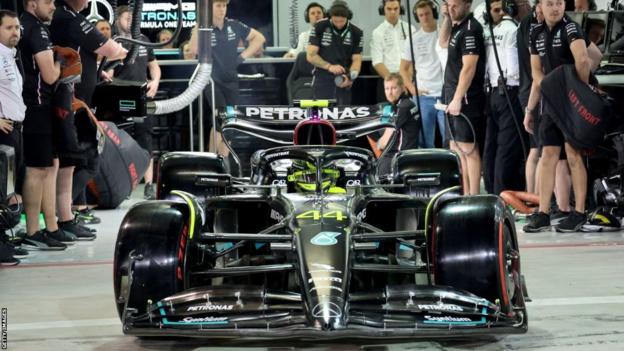 Alonso's return to a position fighting close to the front was greeted with delight up and down the F1 paddock, after 10 years of seeing a man regarded as a legend of the sport fighting in uncompetitive cars.
Lewis Hamilton, who was just 0.044secs slower than Mercedes team-mate Russell in seventh place, said: "I am genuinely happy for Aston. It's amazing to see their progress, the steps that they've taken.
"I'm really happy for Fernando because he's been here way longer than me and it's good to have him back in the mix. Hopefully we'll get some good races."
Hamilton admitted that Aston Martin's progress underlined his own team's failure to make the step forward they had expected for this season.
Aston Martin buy their engine, gearbox and rear suspension from Mercedes. They design their own aerodynamics, using Mercedes' wind tunnel.
"They have pretty much the whole back end of our car, they have half our car," Hamilton said. "So it's definitely not great for us."
Mercedes team principal Toto Wolff added: "Whatever is between us and pole is less relevant because now Fernando is there, we can only take our hats off to what they achieved.
"They gained two seconds in half a year and their car is half ours, from the engine and gearbox and rear suspension, and [using] the same wind tunnel. We just have to acknowledge they have done an outstanding job."
Mercedes need to re-think their car
Hamilton and Wolff admitted that the Mercedes car lacked aerodynamic performance and the seven-time champion is concerned that will affect his chances of moving forwards in the race because it could lead to high tyre degradation.
"We are lacking overall downforce, particularly at the rear," Hamilton said. "That's why we can't get on the power as early as the Red Bulls and Ferraris on a single lap, and that's why we struggle with [tyre] deg. So it's the same story as you had in previous years. Before last year we had better rear end grip."
Mercedes have stuck this year with their "zero-sidepod" design philosophy, which is unique on the grid, and Wolff said he believed they would have to change tack if they wanted to compete for victories.
"I don't think this package is going to be competitive eventually," Wolff said. "We gave it our best go and now we need to regroup and sit down with the engineers, and be totally not dogmatic – there are no holy cows – and decide what is the development direction we want to pursue in order to be competitive to win races.
"We hit our [development] targets and that showed us that it is simply not good enough. We haven't got enough downforce. We need to find solutions to fix that.
"We got it wrong last year. We thought we could fix it by sticking to this concept of car and it didn't work out. So we just need to switch our focus on to what we believe can be the right direction.
"We got the physics wrong and now we need to correct it because there are another three years of these [technical] regulations."