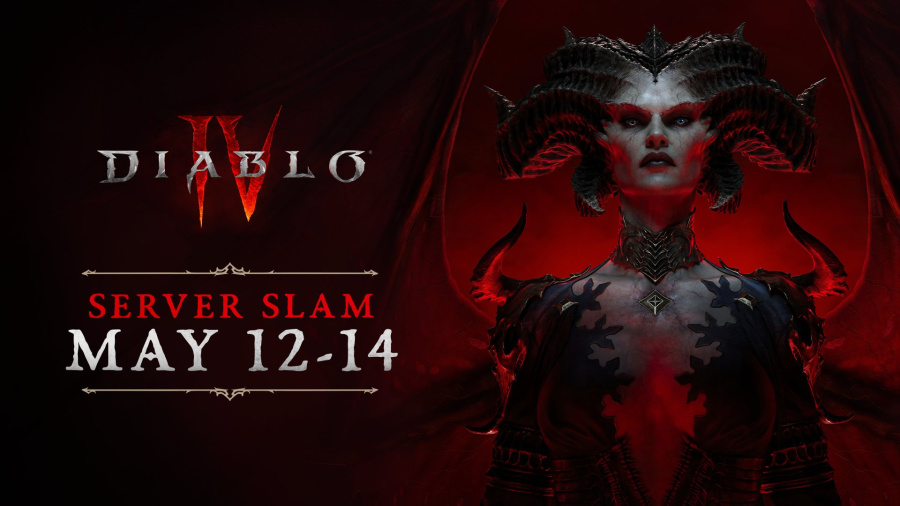 Update (Thu 20th Apr, 2023 20:30 BST):
As we'd hoped, the announcement was for another Diablo 4 beta! This beta, known as "Server Slam", will be arriving on May 12th and lasting until May 14th – free for all players.
Here's a bit more information on what you can expect, courtesy of Xbox Wire:
"Explore all five classes, discover your favorite character builds, join forces against a World Boss, and earn rewards – such as one more chance to earn the Beta Wolf Pack cosmetic – and the new Cry of Ashava Mount Trophy."

"With a fresh start for everyone, you can grow your power up to Level 20 and behold what horrors await in Sanctuary. Progress will be wiped before launch, so discover your favorite ways to slay during Server Slam."
Just like last time, you'll be able to experience the Prologue and Act 1 in Diablo 4's "Server Slam" beta, with the ability to earn four different rewards (Initial Casualty Title, Early Voyager Title, Beta Wolf Pack Cosmetic Item and the NEW Cry of Ashava Mount Trophy), all of which can be carried over to the full game when it launches in June.
"From May 12, 12 p.m.–May 14, 12 p.m. PDT, everyone can come to Sanctuary's defense on Windows PC, Xbox Series X|S, Xbox One, PlayStation 5, and PlayStation 4—along with couch co-op for consoles and cross-play and cross-progression for all platforms—against the armies of the Burning Hells to help us test the durability of our servers."
Diablo IV will offer one last chance to play for free before launch – join the Server Slam on May 12-14: https://t.co/aUct0oGcIj— Xbox Wire (@XboxWire) April 20, 2023
---
Original story (Thu 20th Apr, 2023 06:05 BST):
Diablo 4 arrives this June, and while we've already gone hands-on with the game ahead of release, it seems there might be something else on the way.
The game's executive producer Rod Fergusson is teasing a "secret announcement" for a live stream taking place on April 20th. And now in a tweet responding to a fan asking for "more Diablo 4 game time", the official Diablo Twitter account has mentioned the following:
@Diablo "That can be arranged…"
That can be arranged… https://t.co/PAqUDg7Cmu— Diablo (@Diablo) April 20, 2023
Diablo game producer Ash Sweetring responded to this tweet as well, and Diablo's global community development director Adam Fletcher has also mentioned how this live stream "will be a big one".
Wait… Wait a second!#DiabloIV https://t.co/w0mpgYIv8K— Ash Sweetring Vickey 🎮💙 (@ashsvickey) April 20, 2023
Although it's probably best not to get too excited, these tweets have already ignited speculation on social media and other platforms like Reddit about a "possible additional beta" taking place.
Keep in mind, nothing has been officially confirmed just yet. Some other theories suggest it could be tied to early access for users who purchase higher-tier versions of Diablo 4 and other fan speculation thinks this might be teasing an additional class or something similar.
Tomorrow at 11AM PST @rhykker joins #DiabloIV developers on stream to discuss:

🔥 Endgame details
🔥 Changes since Beta
🔥 And more…
https://t.co/Xz1rMcK8to pic.twitter.com/5R8q40bh2S— Diablo (@Diablo) April 19, 2023