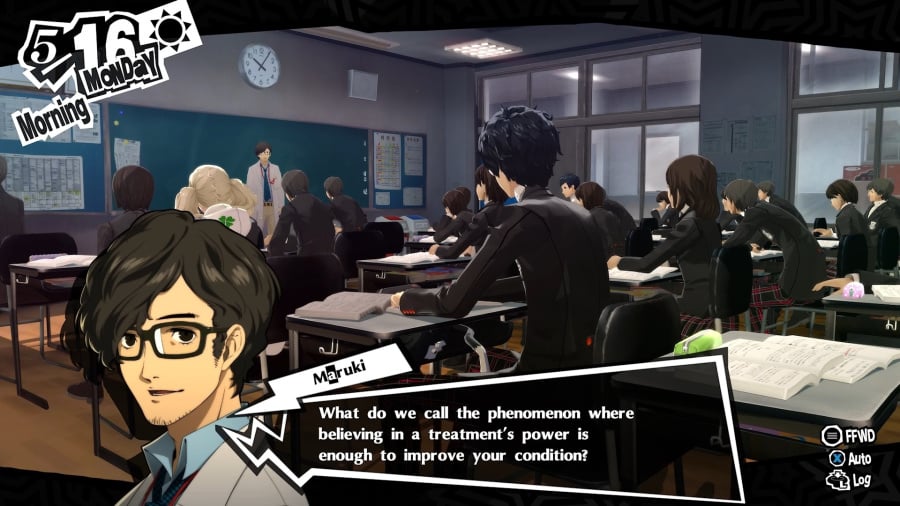 Persona 5 has, quite rightly, been heralded as one of the greatest JRPGs of all time ever since it first released back in 2016. The first all-new numbered entry in the long-running Persona franchise since 2008's superb Persona 4, this really is Atlus firing on all cylinders, serving up a supremely stylish, action-packed and thought-provoking tale of troubled high school teens taking on the system whilst doing battle with supernatural forces.
In its original release state this was easily one of our favourite games of the previous generation of consoles, it really is hard to overestimate just how well everything here comes together. Joker and the Phantom Thieves are an effortlessly cool and hugely likeable bunch of misfits, the dungeon-crawling action mixes top-notch turn-based combat with slick puzzles, stealth and some wonderfully warped enemies, and the social sim side of proceedings is exceedingly well written and cleverly designed stuff.
Everything here, from the swooshing menus to the funky acid jazz soundtrack, the inspired outfits, excellent dialogue and all-out battle action, is just so unbelievably cool, with bold and striking colours splashing across your screen and characters pulling funky shapes and giving all sorts of attitude, even when you're just rummaging through the in-game options.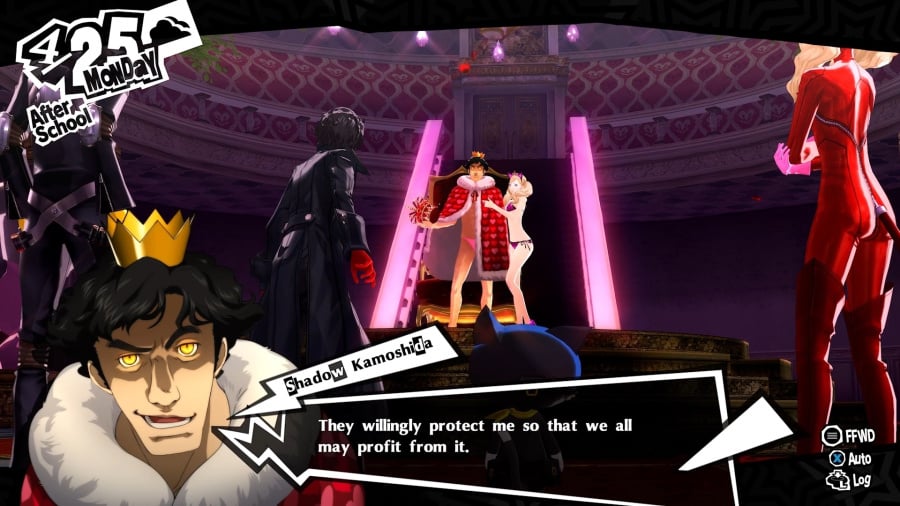 Taking place over the course of a high school year, Persona 5 sees you assume the role of the troubled loner, Joker, as he arrives at a new school and immediately gets involved in supernatural hijinks, teaming up with his new pals to fight the warped psyches of grown-ups in Palace dungeons, multi-levelled manifestations of the negative and corrupt thoughts of people who hold important positions of authority in the gang's actual lives.
The first palace you infiltrate sees you take on the warped mind of Kamoshida, the school's pervy, abusive physical education teacher, who sees himself as a king in his own castle, a castle you'll now need to infiltrate by solving puzzles, sneaking around, battering shadows and working towards stealing the treasure at the core of it all that will hopefully cause Kamoshida to have a change of heart and realise the error of his rotten ways. It's a setup that sees some serious and affecting issues dealt with amidst all the OTT supernatural fun, and the writing here is of a quality that really hits home with the stress, strife and genuine ostracism that teens often feel as they go through some of the tougher years of growing up. Persona 5 lets you have all the fun, all the cool stuff, but it's also here to teach some lessons and hand out some nuggets of wisdom whilst doing so.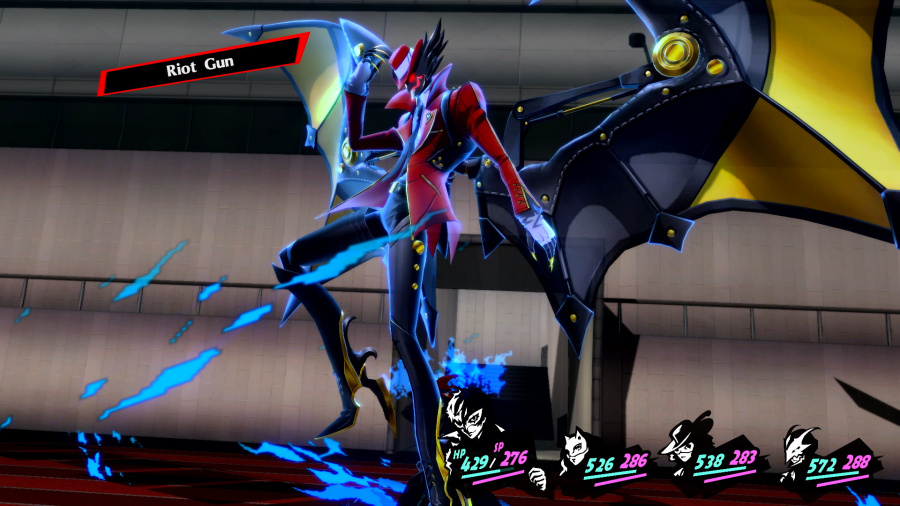 So, it's an absolutely fantastic game, then, that much is crystal clear and has been for some years now since we first got our hands on it. But you're not just getting the original version here, oh no, you're getting Persona 5 Royal and, besides the super slick next-gen enhancements that see this one run at a buttery smooth 60FPS/4K, there's an absolute ton of refinements and meaningful additions added to the base game that result in a notably vamped up version of what many consider to be the ultimate JRPG.
Where do we start with what Royal brings to the table here? We've got refined combat mechanics that introduce new baddies, new and enhanced boss fights, totally reworked dungeons, Showtime Attacks, a new grappling hook mechanic, volatile versions of enemies that make for much more enthralling dungeon runs, and reworked guns that can now be used far more liberally than in the original game. There's also Fusion Alarms, a fantastic new risk/reward mechanic that can see you fuse markedly more powerful Personas during a temporary state of alarm in the Velvet Room, if you don't mess up and have an accident that results in disaster.
We've got a massively expanded core story, with a brand-new school semester which brings with it a new Palace, antagonist and storyline. There's two excellent new confidants, Kasumi and Takuto, new side activities to take part in during downtime, new collectibles and unlockables, a "Mercy" mechanic that vastly reduces the game's grind by having you steamroll low-level foes, a customisable Thieves' Den, tons of new music and dialogue, a new district of Tokyo to run around, over 40 previously released pieces of DLC…yeah, we just said "new" a lot, and there's still far more to discover than what we've mentioned here.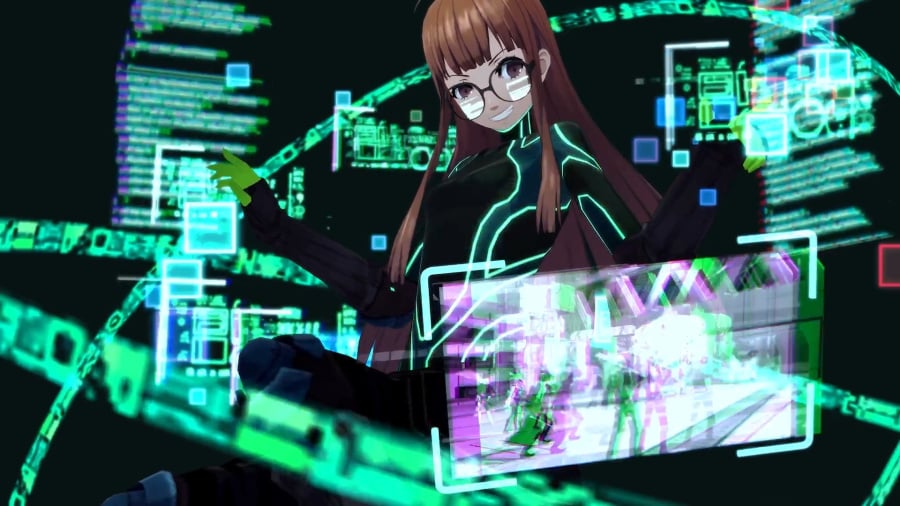 With Persona 3 Portable and Persona 4 Golden on their way to Game Pass early next year, we're prepping ourselves to experience the magic of this superlative series all over again, and Persona 5 Royal is 100% the best of the bunch – although Persona 4 Golden isn't too far off the mark either. If you've never played a Persona game before we can't recommend this one enough, it really is an absolute all-timer, a gem of a game that we don't want to spoil a single second of in this review, and an experience you simply need to dive into and enjoy. Yes, at 130-or-so hours you could say it's a little too long, but you're really just complaining about too much of a good thing. Persona 5 Royal is hands-down one of the best games we've ever played and an absolutely stonking new addition to Xbox Game Pass.
Conclusion
One of the best games of the last generation of consoles, and in with a very strong shout as the greatest JRPG of all time, Persona 5 Royal makes for a fantastic new addition to Xbox Game Pass. Atlus has gone to town on reworking and revamping its 2016 classic in this Royal upgrade and it pays off here with the ultimate version of a true all-timer. This next-gen version runs at a velvety smooth 4K/60FPS too, making for a truly unmissable experience that we highly recommend you dive right into. Games don't get much better than this.