A slightly improved discount on a couple of titles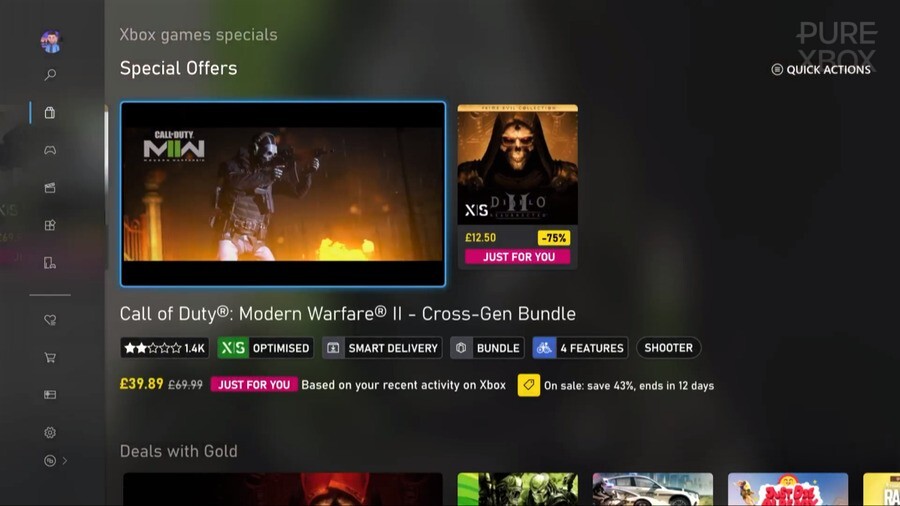 Xbox's new "Just For You" feature on the Microsoft Store has proved a hit so far, offering some good deals to certain users over the past few months – and it's just returned again with some nice discounts as part of this week's sales.
From what we can see so far, most people seem to be getting Call of Duty: Modern Warfare 2 and Diablo: Prime Evil Collection in their "Just For You" section. There are some great deals for both, but keep in mind that they're already on sale right now, so basically you're just getting around a 10% extra discount this way.
It's possible that more than just these two games will show up in your "Just For You" section, so if that's the case, let us know down in the comments below! We saw a lot of variations when Xbox did this with Ubisoft titles recently.
How To Find The "Just For You" Deals On Xbox
Head to the Microsoft Store app on Xbox
Hit the '"Deals" button
Scroll down to "Special Offers"
Any "Just For You" deals will appear in here
---
Of course, Modern Warfare 2 and the Diablo games will hopefully be coming to Xbox Game Pass in the future courtesy of Microsoft's takeover of Activision Blizzard, which took a major step forward this week after the European Commission voted to approve the deal. That said, with the UK and U.S. still fighting against it, it could be a while until those ActiBlizz games finally find their way to Xbox's subscription service.
Have you found anything different to us? Tell us down in the comments section below.