May 9th Quests now live!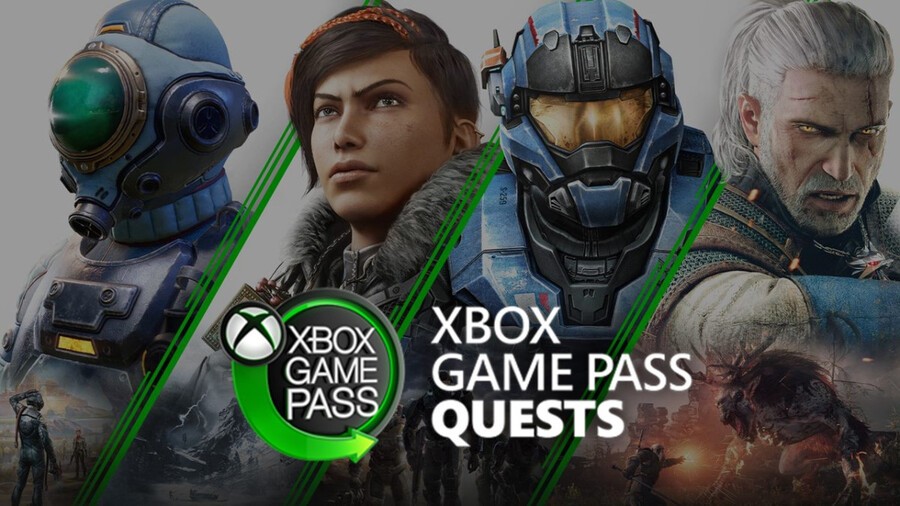 Have you heard of Xbox Game Pass Quests? For subscribers to the service, they're a great way of earning extra money while trying out some different games. In this article, you'll find guides for completing the game-specific Xbox Game Pass Quests every single week, helping you to maximise your Microsoft Rewards points in 2023.
 On this page:
What are Xbox Game Pass Quests?
Xbox Game Pass Quests is a branch of Microsoft Rewards that allows you to earn redeemable points by completing various Xbox and Game Pass related objectives. These points can then be used to acquire various gift cards, such as Xbox and Microsoft currency, as well as competition entries and charity donations. It's basically like completing Achievements, but for real money.
These quests come in three varieties — daily, weekly and monthly. Below, you'll find some guides to help you tackle some of the currently most challenging Quests for the week commencing 9th May, 2023.
Don't forget that the old daily achievement reward for 50 points on Microsoft Rewards is now part of Xbox Game Pass Quests as well, vastly increasing your potential earnings per-week.
How To Complete April 2023's Quests
Guilty Gear Strive – Play The Game (09/05 – 16/05)
This is one of those Quests we all love! All you need to do is start the game.
Difficulty Rating: 1 out of 5
Time To Complete: 1 min
Available on xCloud? Yes
Rewards Points: 5
ScreamRide – Earn 5 Million Scream Points (09/05 – 16/05)
Note: The video above is courtesy of Rewards Hunter on YouTube.
This is a nice and easy Quest, in which basically all you need to do is play through the first section of the Career mode (Series 1: The Populous Labs) in the ScreamRider game type, marked by the blue symbols.
For each level you play here, you should earn just over one million Scream Points, so play through around five levels and that should be enough to complete the Quest. Give it a try… this is a pretty fun game!
Difficulty Rating: 3 out of 5
Time To Complete: 5 to 10 mins
Available on xCloud? No
Rewards Points: 250
How are you getting on with May 2023's Xbox Game Pass Quests? Give us your tips and tricks in the comments below, and feel free to support our site by stocking up on Game Pass subscriptions using the links below.